Xi'an Beilin Museum
2017-05-16 11:40:05 , Source : The Government Website of Shaanxi Province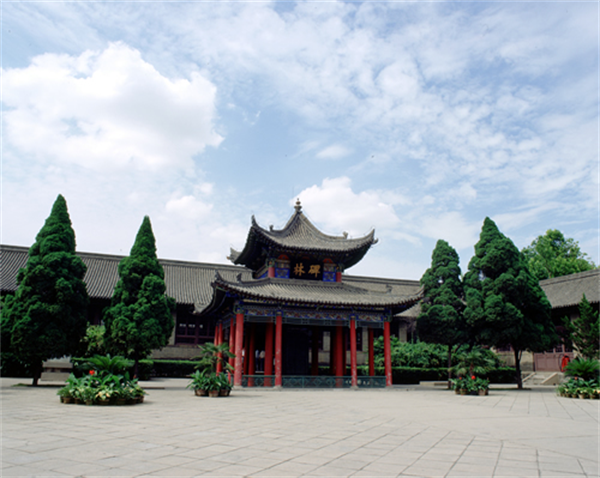 Xi'an Beilin Museum is also called the Steles Forest or Beilin Museum, is a themed museum focusing on displays of stone steles, epigraphs and stone sculptures from past dynasties. Its location is on Sanxue Street, inside the Wenchang Gate of the Xi'an City Wall. Its construction is based on Xi'an Confucius Temple dating from 1087 during the North Song Dynasty (960 – 1127). The museum was built to preserve the Kaicheng Classics (a group of stone tablets) and the Filial Piety Classics. The collection has grown and now includes 11,000 relics, including three thousand stone steles or epigraphs that are housed in seven separate exhibition rooms. Among these many precious relics, there are 19 groups deemed to be national treasures that the visitor should not fail to see.
Compared with other museums, the outstanding characteristic of the Xi'an Beilin Museum is its collection of inscribed tablets. Tablet inscriptions tell us about the religions, life styles and historical facts of ancient times in a vivid way. They provide tourists with a grasp of the general outline of Chinese history and the interaction of China and other countries. For the fans of Chinese calligraphy, these inscriptions are of great interest as they are fine examples of the diverse styles of Chinese characters.
The museum is divided into two parts by the Halberd Gate, with the old constructions in the Confucius Temple in front and the seven exhibition rooms at the back. Upon arrival, the site of the Confucius Temple, including the screen wall, memorial archway and the Lingxing Gates, is before you. Through the Halberd Gate, two separate pavilions are arranged one on either side, with a stone horse of Daxia State (a minority ethnic state from 407 to 431) on the north side and a bell made in Tang Dynasty (618 - 907) on the south. The stone horse is a national treasure as it is rare and in the style of the Han Dynasty (206 BC - 220 AD).
As you go forward you pass by six pavilions and several temporary exhibition rooms arranged along a narrow path. At present, all these pavilions are closed to the public. At the end of this path there is a pavilion where the Stone Tablet of Classic Filial Piety is displayed. This was carved during the Tang Dynasty and bears inscription of dialogues between Confucius and his students.
Stone Sculpture Art Galleries
On the either side of these seven exhibition rooms there are two sculpture galleries. The one to the east is newly constructed, and focuses on the booming development of Buddhism in Chang'an (now known as Xi'an). About 150 stone Buddhist statues from North Wei Dynasty (386 - 557) to Song Dynasty are on display there. These Buddhist exhibits are in two categories, Buddhist statues and Buddhist images carved on the stone tablets.
The older hall, showing about 70 exquisite exhibits dating from the Han and Tang Dynasties, is on the west. It is divided into two parts, namely stone sculptures from tombs and those about religion. Among the sculptures from tombs, the epigraph from Li Shou (a general as well as the brother of first emperor of Tang Dynasty) is the most famous, because it is the only one that exists in China. Also, the Six Steeds from the Zhaoling Mausoleum is outstanding. These represent Emperor Taizong's favorite horses, which were engraved on the stone and put into his tomb after his death. The images of Buddhist statues of Sui (581 - 618) and Tang Dynasties are diverse. Embossments as well as circular engravings reflect the condition and development of Buddhism in ancient China.
TIPS
1. Basic info
Address: 15 Sanxue Street, Beilin District, Xi'an
Ticket:
March to November: CNY 75
December to the next February: CNY 50
* Children between 3.9 and 4.6 feet (1.2 - 1.4 meters) enjoy half price tickets.
* Children under 3.9 feet (1.2 meters) are free of charge.
* A combo ticket for this museum and Xian City Wall costs CNY 100.
Time:
March 1 to April 30: 08:00 to 18:15 (tickets available before 17:30)
May 1 to October 7: 08:00 to 18:45 (tickets available before 18:00)
October 8 to November 30: 08:00 to 18:15 (tickets available before 17:30)
December 1 to end of next February: 08:00 to 18:00 (tickets available before 17:15)
2. Transportation
1. Take Tourist Bus No.6 and get off at Wen Chang Men (Wen Chang Gate) Station.
2. Take bus No.14, 23, 40, 208, 213, 216, 221, 222, 258, 309, 402, 512, 619, 704, 710 or 800 and get off at Wen Chang Men (Wen Chang Gate) Station. Walk east along Shuyuanmen Street and you will find it.

Copyright@www.shaanxi.gov.cn All Rights Reserved
Registration Number:陕ICP备10004160号