The Mausoleum of Yellow Emperor
2017-05-16 11:34:04 , Source : The Government Website of Shaanxi Province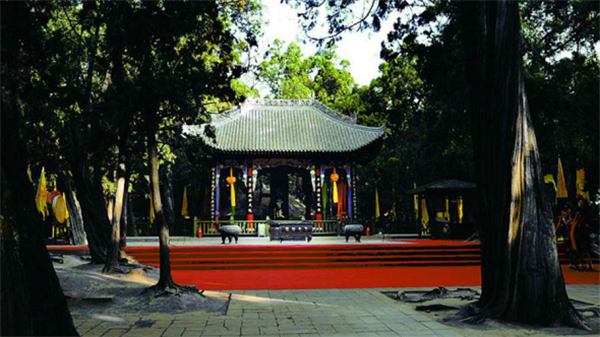 The Mausoleum of Yellow Emperor is the resting place of the Yellow Emperor, the first ancestor of the Chinese nation. It is the Holy Land that Chinese people both home and abroad revere and yearn for. It is located on Qiaoshan Mountain to the north of Huangling County in the south of Yan'an, Shaanxi Province. The scenic spot covers an area of 3.24 sq. km. Qiaoshan Mountain where the mausoleum is located grows more than 86,000 cypresses. Those ancient cypresses growing on Qiaoshan Mountain are called the biggest colony of ancient cypresses in the world, among which the one that was grown by the Yellow Emperor himself is called the "Father of All Cypresses." The cypress where Emperor Wu hanged his armors and Dragon Horn Cypress are called "the Strange Cypresses of China."
In 2006, the public memorial service of the Yellow Emperor (the sacrificial ceremony of the Mausoleum of Yellow Emperor) was included in the first batch of the National Level Intangible Cultural Heritage List.
TIPS
1. Basic info
Address: Huangling County, Yan'an
Ticket: March 1st - November 30th: CNY 91
December 1st - February 28th: CNY 51
Time: 07:30—18:30
2. Transportation
Take buses from the south of the square of Xi'an Railway Station to reach the Mausoleum of Yellow Emperor.

Copyright@www.shaanxi.gov.cn All Rights Reserved
Registration Number:陕ICP备10004160号