More graduates opt for blue-collar life
2021-03-23 10:55:02 , Source : China Daily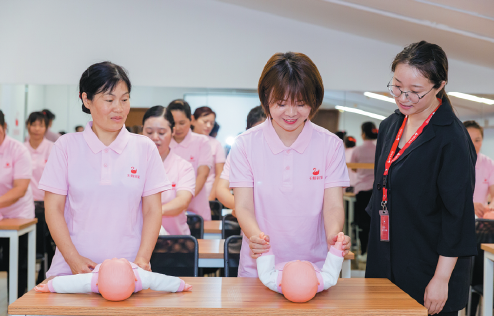 Liu Shuang (middle) takes part in a baby care training session in Beijing last year.
[Photo provided to China Daily]
Language skills
Recently, Liu Shuang, a nanny in Hangzhou, capital of Zhejiang province, has also been the subject of discussion.
The 33-year-old has a master's in French from Xi'an International Studies University in the capital city of Shaanxi province.
Her resume states that she is fluent in French and English and has work experience at a branch of a communications company in the African country of Guinea. She has also taught English at an early education company in Hangzhou.
Last year, she became a registered nanny with Swan Daojia, an online domestic service platform.
She said that unlike working in a traditional office with many rules and codes, she can be more relaxed and treat her clients like family and friends.
"I think this way of getting along will promote long-lasting cooperation," she said.
"However, my mother didn't quite understand me in the beginning because she holds the stereotypical view that a nanny is someone who 'serves others' and is inferior. She couldn't accept that I would do that after undertaking higher education."
Liu added that demand for high-end services in the domestic market cannot be met, and the industry has huge growth potential. Moreover, her strong academic background makes her popular with customers, who are happy to pay more for the services she provides.
"Busy working parents need someone to provide high-quality care for their children. A tutor can't live with the children, but I can teach them languages and play with them like a friend. That is exactly what the customers want," she said.
She was inspired to enter the sector after dealing with a nanny she hired to care for her own children.
"I found that being a nanny requires not only organizational ability, but also good communication skills. I like organizing things and am confident about my social skills, so I applied for a job," she said.
She declined to disclose her earnings, but an internet search suggested that the current monthly salary for high-end domestic helpers is more than 10,000 yuan.

Copyright@www.shaanxi.gov.cn All Rights Reserved

Registration Number:陕ICP备10004160号

./t20210323_2157420_wap.html