Xi'an e-commerce center undergoes major expansion
2023-03-10 15:11:12 , Source : en.xa.gov.cn
The Xi'an Belt and Road E-commerce Center, based in the Xi'an International Trade and Logistics (ITL) Park – located in Xi'an, capital of Northwest China's Shaanxi province – is going from strength to strength and is in the process of rapid expansion.
Ever since ITL Park was approved as a national e-commerce demonstration base in 2015, it has developed new economic industries such as cross-border e-commerce, livestreaming e-commerce and platform e-commerce.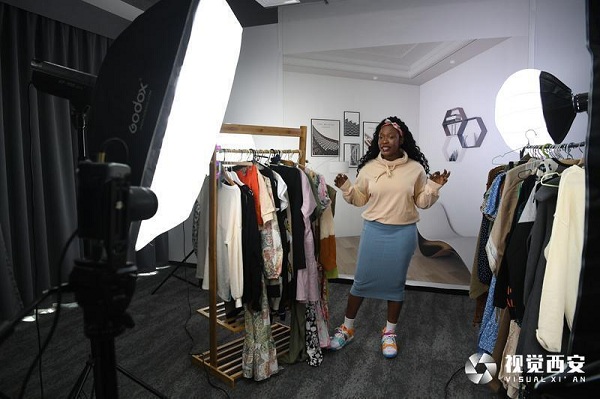 A host introduces and sells clothing at a livestreaming room in the Belt and Road E-commerce Center in ITL Park. [Photo/Visual Xi'an]
The Belt and Road E-commerce Center has adopted livestreaming e-commerce as a key springboard for growth, attracting a group of livestreaming companies to settle in.
To date, more than 30 livestreaming companies have registered in the center, with 168 livestreaming rooms established there being used by more than 800 livestreaming talent.
Over the next three years, the center is projected to attract nearly 1,000 export-oriented economic enterprises related to cross-border e-commerce, livestreaming, foreign trade and international logistics.
One of the beneficiaries of all these activities is Xi'an Weiju Fanxing E-commerce Co, which set up an international livestreaming base in the center in late January. With the support of the facility's incentives and policies, the company is said to be in great shape.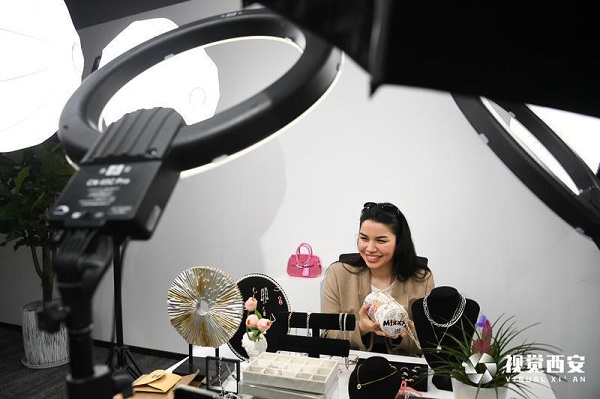 A host introduces elegant jewelry during a livestreaming session in the Belt and Road E-commerce Center in ITL Park. [Photo/Visual Xi'an]

In its eight livestreaming rooms, more than 30 hosts sell products every day, including women's clothing, jewelry and hairdressing products –generating daily sales of around $50,000.

Moving forwards, the company plans to increase the number of livestreaming rooms and product categories. By 2025, on the basis of the existing British and US markets, cross-border livestreaming will target more European countries and the sales are expected to reach $2 billion.

./t20230310_2277942_wap.html