Security in cyberspace facing new challenges
2021-10-12 11:06:40 , Source : China Daily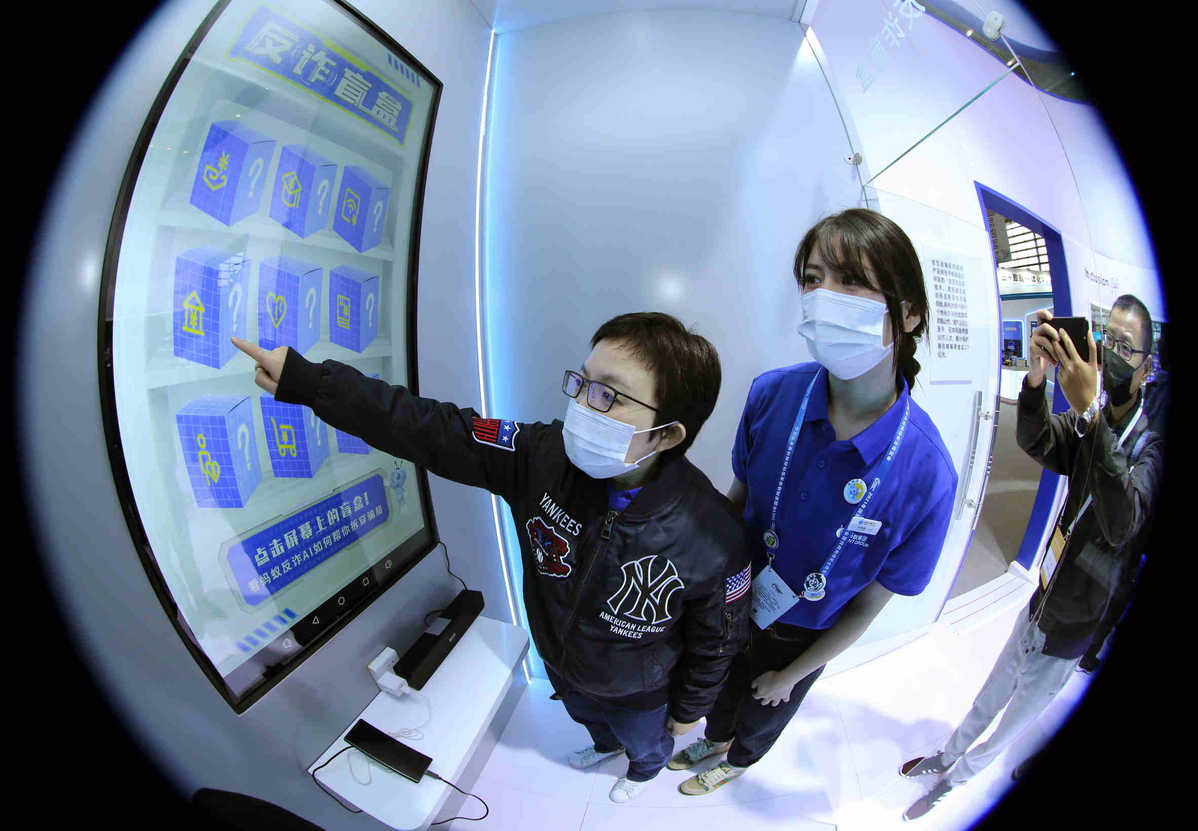 Visitors learn about the application of AI technology in fighting online fraud at an expo that is part of China Cybersecurity Week in Xi'an, Shaanxi province, on Monday. YUAN JINGZHI/FOR CHINA DAILY
China has seen some achievements in fighting online attacks by improving legislation and taking various technical measures in recent years, but new security risks are still challenging the country, according to cybersecurity officials.
"While laws and regulations involving cybersecurity were further promoted last year, the number of computers and websites that suffered from online threats nationwide also dropped," said Huang Chengqing, vice-president of the Internet Society of China.
He made the remarks in Beijing on Monday when attending a summit for China Cybersecurity Week, a nationwide annual event launched in 2014 to enhance people's awareness of online security.
The host city of this year's event is Xi'an, Shaanxi province, where people can visit a few major activities, including a cybersecurity expo and a technology forum, until Sunday.
Zhuang Rongwen, head of China's Cyberspace Administration, said in Xi'an that cyberspace departments nationwide should provide residents with more cybersecurity education and technical skills, strengthening protection on personal information and further purifying the online environment.
Other cities will be holding cybersecurity-related activities to help residents understand more about the need for security and avoid online attacks.
Huang said about 5.34 million computers on the Chinese mainland were infected with malicious programs last year, down 8.3 percent year-on-year, and nearly 100,000 websites were tampered with or broken into, a drop of 45.9 percent.
"The declines mean our increasingly intensified efforts in fighting cyberattacks have worked and our ability to prevent online risks has also been improved," he said, while noting that cybersecurity remains a challenging problem for China.
"For example, more malicious programs are being discovered in mobile networks, and cloud platforms have become an area hit harder by online attacks."
Su Shaolin, director of the Beijing Municipal Communications Administration, told the summit that online threats in new areas, such as in artificial intelligence and blockchain, as well as cyberattacks targeting critical infrastructure, including that for transportation, telecommunication and electricity, have happened frequently in recent years.
"We have to attach much greater importance to cybersecurity and further improve the risk prevention capability, as some of today's 'smarter' attackers are not only aiming to benefit from the destruction of networks, but are also pursuing military and political aims at times," he said.
Su called for people in more walks of life to pay closer attention to cybersecurity, "because such new attacks may cause industrial closure or even harm national security while bringing down networks".
Besides the summit, a few other activities, such as a cybersecurity competition, publicity about cybersecurity-related laws in communities and dramas to help people enhance their security awareness, will also be held as a part of China Cybersecurity Week in the capital.

Copyright@www.shaanxi.gov.cn All Rights Reserved

Registration Number:陕ICP备10004160号

./t20211012_2193536_wap.html