President's New Year speech 'inspiring' to people of HK
2022-01-01 21:23:18 , Source : China Daily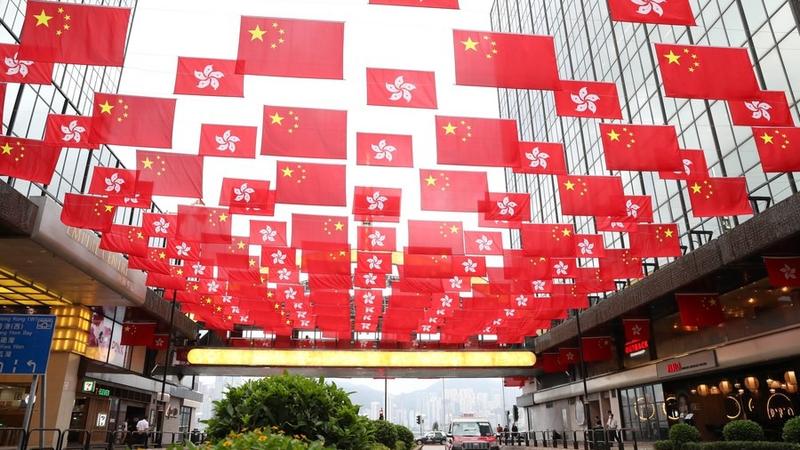 Photo taken on June 29, 2021 shows China's national flags and flags of the Hong Kong Special Administrative Region (HKSAR) on a street in China's Hong Kong. [PHOTO / XINHUA]
President Xi Jinping's New Year address on Friday has cheered up Hong Kong residents from various sectors, who called it thought-provoking and inspiring.
As part of a long-standing tradition, Xi extended his greeting in the speech to people all over the nation and overseas. He said the country has set out on a new journey of building a modern socialist country and is making confident strides on the path toward the great rejuvenation of the Chinese nation.
"The prosperity and stability of Hong Kong and Macao is always close to the heart of the motherland," Xi said. "Only with unity and concerted efforts can we ensure sound implementation of 'one country, two systems' in the long run."
Ronnie Wong Man-chiu, honorary secretary of the Sports Federation and Olympic Committee of Hong Kong, said Xi's speech has aroused his sense of pride in the nation's rapid and successful development.
"I've a high expectation that the nation will have great results at the upcoming Winter Olympics in Beijing," he said.
Wong said he is grateful that the central government has helped Hong Kong return to stability and prosperity with effective measures.
Edward Liu Yang, vice-president of the Hong Kong and Mainland Legal Professional Association, said Xi's speech has shed light on Hong Kong's governance and development.
It boosted his confidence in the city's achieving stable and long-term development of "one country, two systems".
Kevin Lau Chung-hang, a nonofficial member of the Commission on Poverty, said he is inspired by President Xi's speech, and believes that it is Hong Kong's turn to achieve happiness and successes through hard work in the new year.
"In 2022, as the SAR will celebrate its 25th anniversary, Hong Kong will surely grasp the chance to join building the shared future community in harmony," said Lau.
Wong Kiu-fung, a local doctor, said he was touched by the nation's caring and unswerving support for the city, as Xi emphasized in the speech.
He said he hopes that Hong Kong and the mainland will soon resume quarantine-free travel for faster construction of the Guangdong-Hong Kong-Macao Greater Bay Area.
Jack Cheung Ki-tang, chairman of the Hong Kong Youths Unified Association, is impressed by the dedication of the central government and the Communist Party of China to better people's livelihoods.
The central government's efforts in the implementation of the National Security Law for Hong Kong and improving the electoral system laid a solid foundation for the city to solve deep-seated social problems, Cheung said.
Meanwhile, Hong Kong also saw celebrations lighting up the city's skyline on New Year's Eve, including an overnight concert and a 600- strong drone show at the Central Harbourfront.

Copyright@www.shaanxi.gov.cn All Rights Reserved

Registration Number:陕ICP备10004160号Tel:029-87293333

./t20220101_2206319_wap.html