Giant Wild Goose Pagoda
2021-10-26 15:22:00 , Source : The Government Website of Shaanxi Province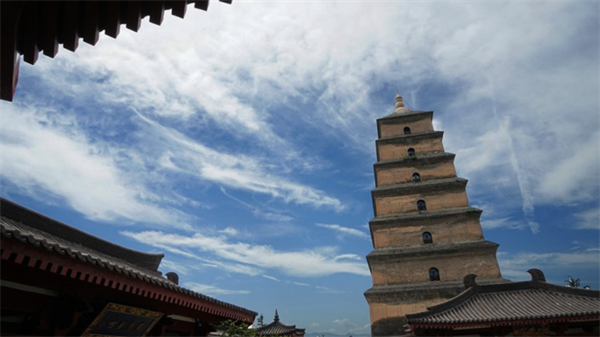 Giant Wild Goose Pagoda, Xi'an's most famous landmark, is located in Da Ci'en Temple. One of China's best examples of a Tang-style pagoda (squarish rather than round), it was completed in AD 652 to house Buddhist sutras brought back from India by the monk Xuan Zang. Initially the pagoda had five floors, and then its floors were added to nine. Later, there were several changes in its floors and height. Finally, it had 7 floors, as we can see nowadays. It is 64.517 meters in height, with the length of side of ground floor being 25.5 meters.
It is the existing earliest and largest pagoda of the Tang Dynasty, with a structure of square pavilion brick tower. It has an architectural form of Buddhist temple introduced to Central China from ancient India as well as blends Huaxia culture. Condensing the wisdom of laboring people of the Han nationality, it has become a landmark building.
The State Council included Giant Wild Goose Pagoda into the list of "The First Key Cultural Relics Site under the State Protection" in 1961. Giant Wild Goose Pagoda, as one site of "The Silk Road: Chang'an-Mount Tianshan Corridors' Road Network" jointly applied by China, Kazakhstan and Kyrgyzstan, was included into the "World Heritage List" in 2014.
Daci'en Temple
Daci'en Temple is the home of Giant Wild Goose Pagoda. In 648, the temple is built to commemorate the dead virtuous queen, for which the status and scale far exceeded all others. Today, with an area of 12.5 acres (50,738 square meters), one-seventh of the original area, it still retains its grandeur.
Before the temple, there stands a statue of hierarch Xuanzang, the meritorious hierarch. With guarding lions at both sides of the gate, the temple seems stately for lions were said to function as talismans. Entering the temple you will see two buildings - Bell Tower in the east and Drum Tower in the west. Along the central axis are arranged the Hall of Mahavira, Sermon Hall, Giant Wild Goose Pagoda, and the Hall of Xuanzang Sanzang.
To the south of the pagoda is an open-air mall of shops, galleries, restaurants and public art; well worth a wander. An evening fountain show is held in the musical fountain on the North Square.
TIPS
1. Basic info
Address: Da Ci'en Temple, Yanta District, Xi'an
Ticket:
Ticket

Price:

Entrance Fee of Da Ci'en Temple: CNY 40
Ascending the Pagoda: CNY 25
Note: Those who want to ascend the pagoda should buy the entrance ticket of Da Ci'en Temple as well.


Opening

Hours:

8:00 - 17:00
Musical Fountain on the North Square:
Admission Fee

Free

Timetable

Jun. 10 – Oct. 5

Mon., Wed. – Fri.: 12:00, 21:00

Tue.:21:00

Feb. – Jun. 9; Oct. 6 – Oct. 31

Mon., Wed. – Fri.: 12:00, 20:30

Tue.:20:30

Note:
1. Extra performances on weekends and holidays are at 14:00, 16:00 and 18:00;
2. No show from Nov. to Jan., except the Chinese New Year Holiday.
2. Transportation

By Bus:

Take bus No. 5, 19, 21, 22, 23, 24, 27, 30, 34, 41, 44, 224, 242, 307, 400, 401, 408, 500, 501, 521, 526, 527, 601, 606, 609, 619, 701, 715, 933, Tourist Bus No. 6 & 8 & 9 and get off at Dayanta Station.

By Subway:

Take Subway Line 3 to Dayanta Station directly.

Take Subway Line 2 to Xiaozhai Station (Exit C) and walk eastward for 10 minutes.

By Taxi:

It costs about CNY 30 from the Xi'an Railway Station to this scenic area.




./t20170516_1594551_wap.html