Police smash gang that stole, sold palace relics
2021-03-23 10:44:58 , Source : China Daily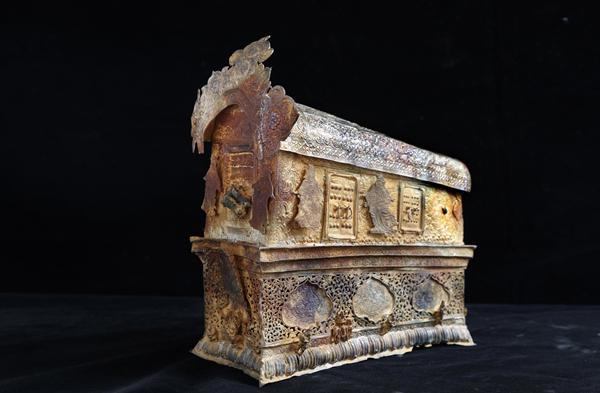 A silver coffin seized by police. [Photo provided to China Daily]
Police in Shaanxi province have arrested 36 grave robbers and cultural relic resellers, and recovered 95 stolen cultural relics, the Ministry of Public Security said on Monday.
Public security organs in Xianyang, Shaanxi, found evidence that cultural relics in the underground palace of the Kaiyuan Temple's tower had been stolen and set up a task force to investigate.
Police found a criminal group that was equipped with professional tools to detect the location of underground palaces. The group members usually rented private houses and opened a store near a cultural protection area to cover their operations.
From September 2011 to December 2017, the group illegally excavated six underground palaces in Shaanxi and Shanxi provinces, which are all key cultural relic sites under State protection, and a group of ancient tombs from the Western Zhou Dynasty (c.11th century-771BC) in Yuncheng, Shanxi province. They stole 95 cultural relics, the ministry said.
Some cases covered a long time span and involved many people, and the stolen cultural relics had been resold many times by different people, making it more difficult for police to hunt down the suspects and recover the relics, it said.
The task force visited nine provinces and arrested most of the suspects during the past three years. Three suspects are still at large.
A ministry official said that such crimes still occur frequently, and the gangs are using more professional and high-tech tools and have set up an illegal network involving the whole chain from stealing relics to reselling them.
The public security organs will stop crime at any link in the chain, and strengthen inter-department cooperation and supervision to resolutely protect the safety of China's cultural relics, the official said.

Copyright@www.shaanxi.gov.cn All Rights Reserved

Registration Number:陕ICP备10004160号

./t20210323_2157415_wap.html