Xi'an resumes outbound group tours
2023-02-20 14:26:58 , Source : en.xa.gov.cn
The flight 9C7455 to Bangkok in Thailand from Xi'an – capital of Northwest China's Shaanxi province – resumed operations on Feb 16, with a plane carrying 168 passengers taking off.
The departure marked the launch of Xi'an's outbound group tours.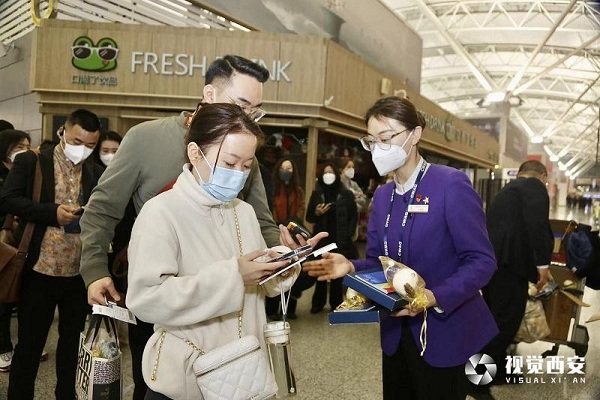 Passengers receive souvenirs of the flight at Xi'an Xianyang International Airport on Feb 16. [Photo/Visual Xi'an]
The flight is operated by Spring Airlines. The outbound flight departs Xi'an at 7:05 am and arrives in Bangkok at 11:15 am, while the return flight leaves Bangkok at 12:15 pm and arrives in Xi'an at 5:05 pm.
At the launch ceremony, the director of the Tourism Authority of Thailand (TAT) Chengdu Office, said that tourists from Xi'an were very welcome to Thailand as the first stop of their outbound tour and Thailand expected to receive 5-6 million Chinese tourists this year.
TAT will develop new high-quality local guide companies to meet the needs of Chinese outbound tourists and gradually increase the reception capacity, she added.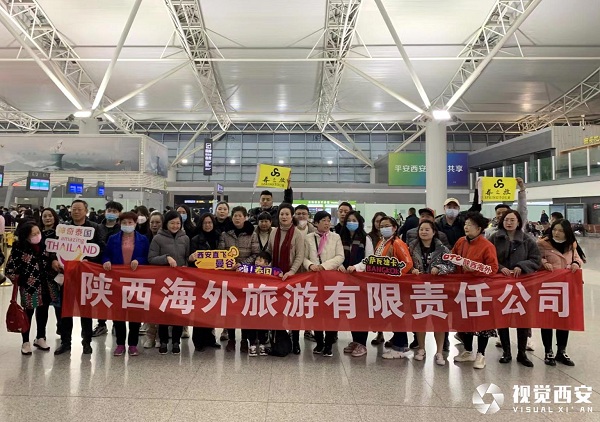 Passengers pose for a group photo at Xi'an Xianyang International Airport on Feb 16. [Photo/Visual Xi'an]

./t20230220_2275470_wap.html